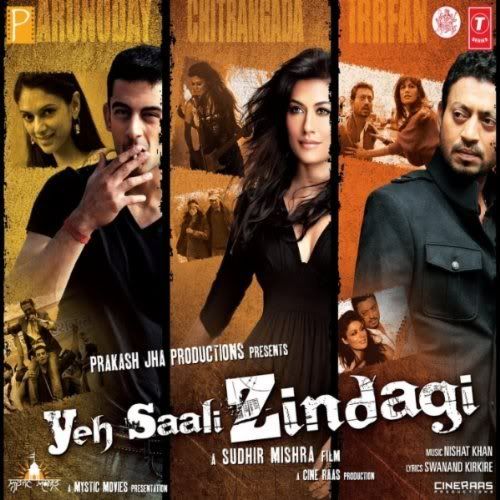 When I watch gangster capers like Yeh Saali Zindagi, I am never quite sure how to go about reviewing the movie without giving away the essence of it. Because none of these movies have much of a story in the traditional sense. But they make up for the lack of a depth with their moviemaking style – and packing the script with quirky characters
Which Yeh Saali Zindagi has by bucketloads. Beginning with Irrfan Khan, a crooked account par excellence who helps arms dealers, politicians and other unsavoury characters stash away their moolah. He might be exceedingly clever in the ways of the world, but the wiles of women are completely beyond him, as he discovers, hanging from his 30th floor balcony in the opening scene of the movie. Holding the end of the rope is his boss, Saurabh Shukla – who doesn't think much of the womankind and their wily ways – and nor does he care about his promises to his employees.

The opening scene of the movie might be a bit of a shock to some – given the coarse and vulgar language in it. Sudhir Misra's writing and editing is crisp – so you have to follow the movie carefully to understand the twists and turns of the script. Those squeamish about vulgar hindi words are better off not watching the movie – and those with weak hindi should probably brush up their abuses. Because the dialogues in Yeh Saali Zindagi are really profane – and all the fun is lost if you don't understand the dirty jokes – of which there are plenty

The humour is irreverent (and of course very rustic). Death and violence are casually treated, and the background narration by Irrfan adds dry deadpan humour to the proceedings. There are mandatory backstories for most characters – and jumps between them quite abrupt – hence requires full concentration.

Essentially there are two stories running in parallel in the movie – Irrfan & Chitrangada's love track and Arunoday & Aditi Rao's marriage track. Irrfan and Chitrangada need no introduction. Arunoday is ex-Cabinet minister Arjun Singh's grandson while Aditi Rao is the bua from Delhi 6. Both of them are quite the revelation – Arunoday showcasing his good physique and acting and Aditi Rao coming across as quite smouldering despite her cute Nauheed-Cyrusi-looks. Infact there is a constant sexual tension between her and Arunoday, resulting in about a dozen slaps and two dozen liplocks in the movie

But Chitrangada Singh takes all the male attention as the sultry and smoking-hot singer Priti. She forms the linchpin of the movie – not very different from her debut movie Hazaaron Khwaishein Aisi – where two men are vying for her charms. The difference is that Yeh Saali Zindagi has a busload of other weirdos – gangster brothers Bade & Chhote, corrupt cop Satbeer and the motley group of henchmen.

This is not Sudhir Misra's most serious movie by a mile – but the director seems to be having fun here. There script is manic, punctuated by languid frames of Chitrangada - yet there is an air of nonchalance through out the movie which stands it in good stead over other movies of its genre. In comparison, Kaminey feels almost formulaic. And because of its exaggerated eccentricity, this movie will not appeal to everyone. But if you keep up with it, Yeh Saali Zindagi will reward you will a tumultuous thrilling ride packed with a lot of fun.