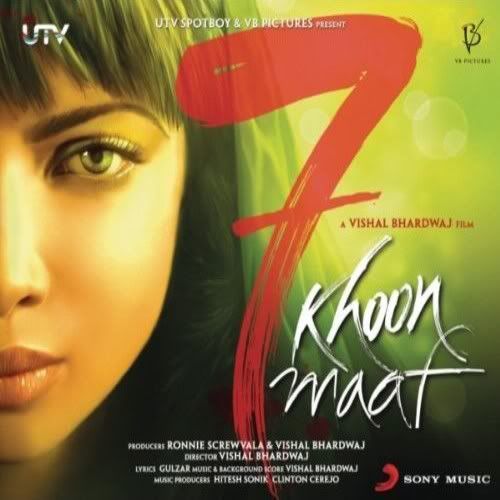 After turning several of the Bard's works into Hindi cinema masterpieces, Vishal Bhardwaj chose to work on an Indian story this time. His choice of Ruskin Bond's Susanna's Seven Husbands is consistent with the dark theme of his previous movies. The high decibel promotion of the movie had made all and sundry know that it is about Susanna killing all her husbands and the implication automatically is that it a murder movie or a thriller of sorts. However, 7 Khoon Maaf turns out to be a brooding movie about a woman's simple desire to find true love – and her sadness at her repeated failures
Of course, this is just a movie and debating on the justification of killing off husbands is completely useless. So leaving that aside, it is quite charming to see the life of an rich Anglo-Indian lady (in what is presumably Panchgani), living in her ancestral bungalow, surrounded by antique furniture, a horse stable and even having a church in her own grounds. She is loyally served by her butler, maid and her father's old stable-hand throughout her life – even in the inexplicable deaths of her husbands. All the three staff do amazingly well – especially the mute stable-hand/jockey. And without spoiling the fun - the maid is a surprise to say the least.

All the husbands are from different walks of life – and they each represent one unique aspect of the man of Susanna's dreams. But they are all flawed in some way - and it proves fatal for them. Except for John Abraham's rock star act, all the other husbands perform exceedingly well – never letting you guess how or why it all goes wrong. The standout among them is Annu Kapoor as inspector Keemat Lal and the russian Aleksandr Dyachenko.
[Just to show that women can never be satisfied - unlike men who just want only one thing :D]

Priyanka gives this movie all she has got in acting. Which makes for very engrossing watching. If I had to pick a flaw, it would not be in her acting – but the person that she is. Priyanka is very good looking, and can act fairly well – but she comes across as very straight and open. There is no mystery about her – that intangible mystique – which you just can't fathom, Paeans have been written by poets throughout the ages about this very aura of mystery around women - and Susanna was one character which demanded that mystery. Like Smita Patil did in her times – and what Tabu has in this generation. Tabu would have blown everyone away with this role.

Linking all these stories up is debutante Vivaan Shah as the orphan boy whose schooling Susanna sponsors – and who is also the narrator for the movie. His fresh face somehow lends a little more credence to his story of a childhood crush – and hence contributes significantly to making the story believable.

Vishal Bhardwaj has not pushed any boundaries with 7 Khoon Maaf – which people have come to expect of him given his body of work. It is a linear account of the life of Susanna Anna-Marie Johannes and her loves. As with all of Vishal's previous works, 7 Khoon Maaf is brooding and dark, but Susanna connects with the viewer much more than any of his previous lead characters. It makes you feel her initial euphoria of getting married, then her despair, and finally her resignation to fate. All of it adds up to a movie with soul.


Read More!