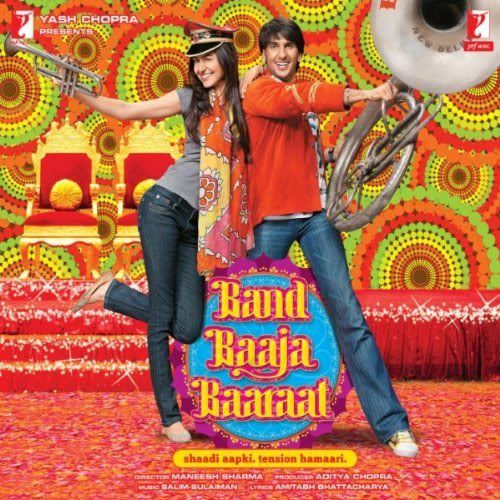 "Bread pakode ki kasam !", three weeks after I watched this movie, I still look fondly back at it – and wouldn't mind paying to watch this movie again. An unabashed Bollywoody movie after a long time, full of song, dance, laughter & dollops of "Dilli-ness", Band Baaja Baaraat is one of those vibrant romantic movies which make Bollywood what it is – a happy-dreams factory. In the process, Yash Raj finally found its mojo again and we might have found two potential superstars of the future
If a month after its release, you do not know the story of Band Baaja Baaraat, then you really have been living under a rock somewhere. But just to humour you, Band Baaja Baaraat is a romantic comedy set in a backdrop of weddings in Delhi – where the lead duo of Shruti Kakkar and Bittoo Sharma form their own wedding planning company Shaadi Mubarak. Their complementing natures make their venture successful, but the attraction of opposites is too hard to resist and love gets mixed with business – with slightly tumultuous results.

While the pace of the movie flags for a bit in the second half when the emotions run riot, Band Baaja Baaraat has a fabulous first half where the energetic and fresh Shruti meets the UP ka launda Bittoo (who is terrified of being dragged back to his dad's sugarcane fields in Saharanpur). Newcomer Ranveer Singh is a complete natural and does a fabulous job as Bittoo – including his "binnesse" and love for bread pakodas. His confidence and screen presence are something some older actors might be jealous about. Anushka gives her best performance so far, as the bubbly girl from Janakpuri, decked in bright punjabi suits and fits like a hand in glove into the role.

Apart from the slight melodramatic post-interval section and the predictable ending, there is not much to nitpick in Band Baaja Baaraat (and which romantic comedy's ending surprised you anyway ?). The supporting actors do their parts very well and the weddings are true-blue dilli weddings. The songs have been making waves, especially "chai mein dooba biscoot ho gaya…"

This is obviously not a serious movie, looking for critical acclaim. It is a light hearted movie with joy, laughter and an honest attempt at making you leave the hall with a nice smile on your face. In that it is fairly successful (I quite liked the ending credits). So if for some reason you missed catching this movie in the holiday season, it still has a couple of shows in all multiplexes this week.


(After 3 weeks, I might have selectively remembered only the good things, hence only 3.5 stars)